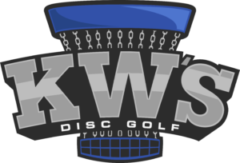 Let me know if you want to stop by the house and buy some stuff!! I try and keep my hours updated on Google, my Facebook page KWs Disc Golf, and on the front page. Or you can just contact me to see if/when I'll be open.
I have been selling disc golf items on eBay for 8 years now. Since that time, I have accumulated over 11,00 feedback. I am a Top-Rated Power Seller with 100% feedback and 5.0/5.0 stars in all seller categories. Many of you already know me from eBay, Facebook, DGCR, and my Disc Golf Mystery Box videos on YouTube.
I am an authorized dealer for Innova, Discmania, Discraft, MVP, Axiom, Streamline, Dynamic Discs, Latitude 64, Westside Discs, Prodigy, Millennium, Legacy, Vibram, Odin Bags, Disc Gator, Upper Park Designs, RexArm, and Gateway. I do not currently carry Legacy, Vibram, or Gateway, though, due to extremely poor sales for the 2 years that I carried them. I may one day get them back in, but not in the near future.
I strive for 100% customer satisfaction!
If you have any questions, don't hesitate to contact me!
Kevin Waring
Phone: 810-908-5412
Email:[email protected]
Facebook: KWs Disc Golf
---
Hours subject to change without notice. I try and keep them updated
Shoot me a text or call at 810-908-5412 if you want to double check hours
Our new address starting at the beginning of the year is:
1450 Houghton Trail
Ortonville, MI  48462
KWs Disc Golf